Sacco Felice is the best choice for kids!
Children and Trapizzino have grown together, and we like to think that we have managed to bring many children into the traditional cuisine of the right times and ways, of "it takes as long as it takes", of the sauce that boils over the fire from early morning and permeates the whole house with its aroma. It is with this spirit that Un Sacco Felice was born, the surprise
proposal for children.
The Sacco Felice is available in all premises!
Every child will find in the Sacco Felice:
● a Trapizzino of your choice
● a bottle of water
● a homemade biscuit
● … and a surprise!
And SuperTrap Colouring Book for a wonderful adventure in Ancient Rome!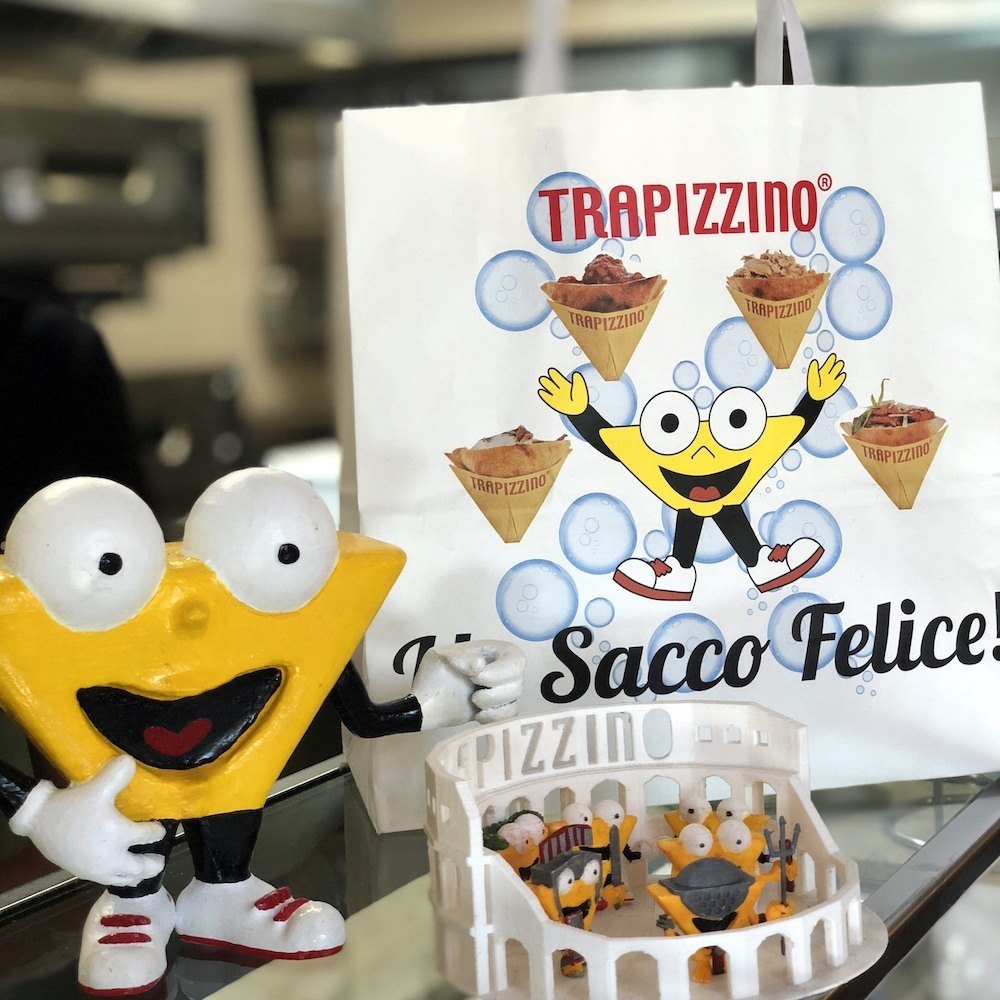 The Mineral Brothers!
In Trapizzino's Sacco Felice you will can find one of the Mineral Brothers, the mascots ready to bring children on a journey to discover the superpowers of mineral salts! There are 6 characters to collect and create  stories together:
Dott. Effe:very intelligent scientist, he heads the team The Mineral Brothers
Bolla:faithful dog of dott. Effe
Cali: super heroine, she is hyper-resistant and unbeatable in helping us fortify bones, teeth and nails (Calcium)
Pot: super hero, energetic and dynamic; helps the growth of muscles making us very strong (Potassium)
Sili:super heroine, incredibly elastic; it is capable of making our skin more elastic (Silicium)
Bic: extra-strong super hero, it helps to reduce fatigue and muscle aches, and to keep us light by promoting digestion (Bicarbonate)
… and the coloring book of Ancient Rome!
And here's another gift: an Coloring album that brings all kids in a funny adventure in ancient Rome together with Super Trap, Tina and all Trapizzino's friends: Chicken, Meatball, Eggplant, Pork and Tongue 😄
We will color and get to know all the most famous characters of Ancient Rome:
Cicero Trap: the greatest lawyer in all of Rome
Cesare Trap: the first emperor of Rome
Lucius Trap: the most experienced Centurion in Rome
And more: Catullo Trap and Massimo Trap! And you, mom and dad, you already know who they are… right?